Schwartz Service Department
TWO LOCATIONS – SHREWSBURY (near Red Bank) & WALL, NJ
---
We service all makes and models.
The credibility of our service department is absolutely astounding. Specializing in stock and high-performance Hino and Mitsubishi Fuso, we are equipped to make your box truck, dump truck, cab & chassis or refrigerated suitable for you and your taste. We have top factory-trained technicians on duty during all business hours. We are a Federal highway inspections (FHWA) NJ State Diesel Emissions test facility.
We honor all warranty work and favor any recalls. We accommodate any type of problem that may arise with your box truck, dump truck, cab & chassis or refrigerated in an efficient, precise, and timely manner.
Our friendly and helpful staff have years of training and experience, we are ready to answer your questions or schedule service for your vehicle. At Schwartz Truck Center we approach service differently. Our goal is to increase your uptime and lower your operating costs. Our state-of-the-art, full service dealerships are staffed by highly trained, ASE-certified technicians and equipped with everything needed to keep you up and running.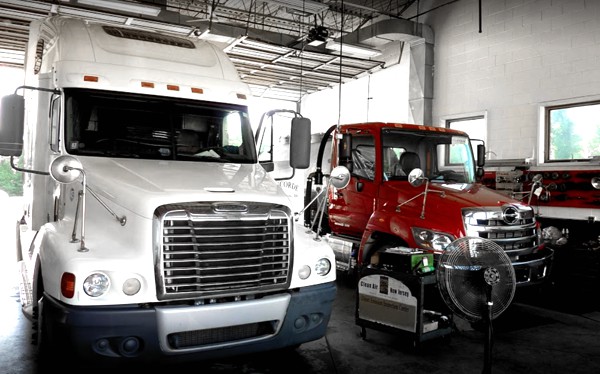 Our team is trained to handle everything from scheduled maintenance to major repairs, and we'll help keep your vehicle in pristine condition. Feel free to contact us with your questions and comments.
---
Schedule Your Service Work Today
Call (732) 704-7637 or send us a service request…
SERVICE HOURS
MON – FRI: 8 AM – 4:30 PM
Need Towing to Our Service Center?
Call (732) 530-4041

---
Maintenance Deals
Free Multi-Point Inspection performed with every service!

2008-2019 Hino 6-Cylinder

"A" Service:
Oil Filter, Oil, Syn Grease
$199
"B" Service:
Oil Filter, Oil, Syn Grease, Fuel Filter
$299
2005-2007 Hino 6-Cylinder

"A" Service:
Oil Filter, Oil, Syn Grease
$199
"B" Service:
Oil Filter, Oil, Syn Grease, Fuel Filter
$299
2015-2019 Hino 4-Cylinder

"A" Service:
Oil Filter, Oil, Syn Grease
$199
"B" Service:
Oil Filter, Oil, Syn Grease, Fuel Filter
$299
2005-2010 Hino 4-Cylinder

"A" Service:
Oil Filter, Oil, Syn Grease
$199
"B" Service:
Oil Filter, Oil, Syn Grease, Fuel Filter
$299